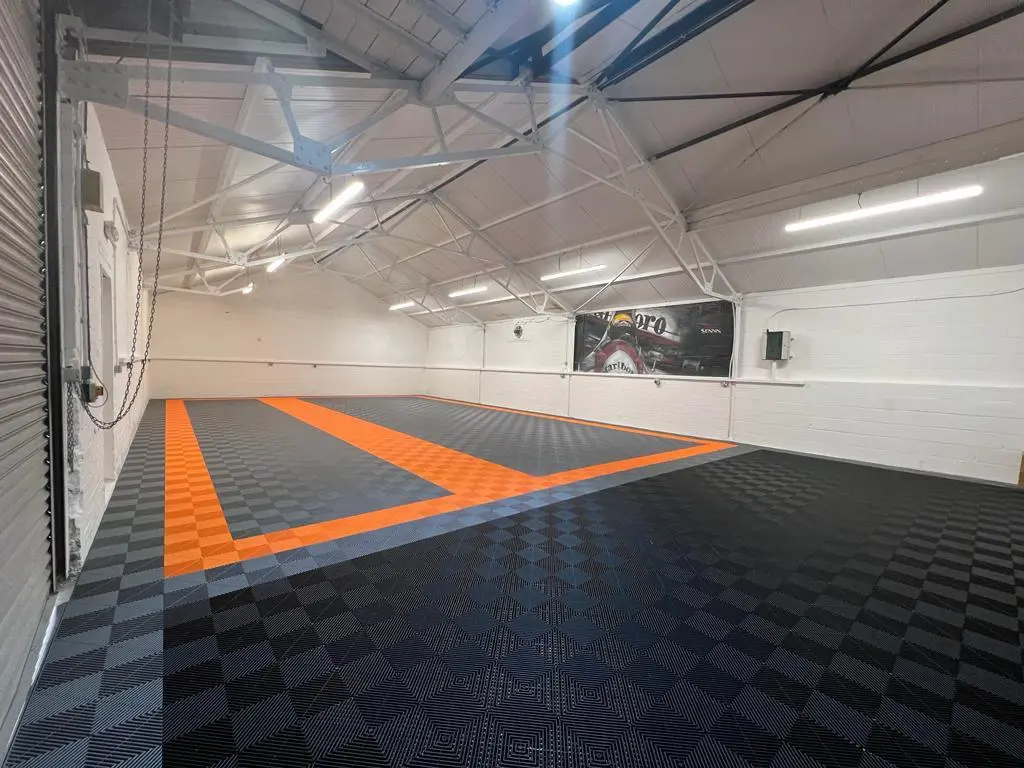 Tuff-Tile floor tiles break industry standards!
Whether your space is a garage, a warehouse or an industrial production room, a car wash, a detailing service or a showroom, there's now a quick and easy way to make it unique! You don't need to epoxy or paint the floor, both of which won't fully protect the floor if something falls on it. Tuff-Tile floor tiles are strong tiles with a lifetime guarantee. 

Anyone can install it! Want to make your hobby shop or gym look more stylish and distinctive? Want a floor that's durable, yet still looks like you or your hobby? Or in your company colours? 

Thanks to their very high load-bearing capacity and resistance to oil, acids and UV light, these floor tiles have a very wide range of uses. From home garages and smaller car repair or detailing workshops, to large gyms and industrial buildings. All types of wood and concrete surfaces. Floor tiles are suitable for use in temperatures from -40°C to 120°C.  

It's never been easier to personalise your space! Choose the floor tiles in the colour that suits your taste from 14 colours and personalise your space quickly and easily with installation.
| 400x400x18mm in dimension |
| 4 x point injection moulded with 24 x connecting points for added strength & durability. |
| Non-slip, suitable for laundries and swimming pools |
| High load-carrying capacity – 20t on a single plate and 75t overrun load capacity |
| 14 colors |
| UV resistant |
| Oil and acid resistant |
| Temperature resistance -40°C to 120°C |
Tuff-Tile floor tiles come with the industry leading lifetime warranty!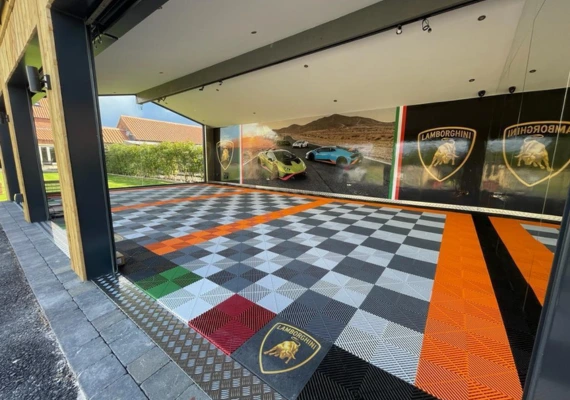 How to calculate the quantity and cost of tiles?
The calculation is made very easy by the supplier. You can use the guide below or you can also just give us a call if you know the dimensions of your room - length, width, etc. 


1. Measure the width and length of your room. 
2. Go to Tuff-Tile.com and select Floor designer.
3. First choose the shape of the room - square, L-shape, T-shape.
4. Enter the dimensions (the planner calculates in meters) - Click "Apply".
5. If the room has diagonal walls, enter their details. If they are missing skip. 
6. Select areas that cannot be tiled, support columns, partitions, etc. Select "Apply" if necessary.
7. Now you can select the tiles - first select the base colour from a list of 14 colours. 
8. Then create your own colour scheme by combining different colours. 
9. The tile is 18mm thick and you may need to use a top flange (RAMP EDGES) - available in four colours, same for the corners. 
10. FINAL DESIGN - shows you exactly how many tiles and what colour you need. 

Submit this information to us and we will give you a quote. Once the tiles are in stock, you will receive the goods in 2-3 working days. We try to keep a large stock of the most common colours. Manufacturer's order approx. 14 working days.

Floor tiling – how to install Tuff-Tile floor tiles?
Have you ever assembled LEGOs? Well, assembling these tiles is even easier! The tiles are 400x400mm with 24 fixing points and 18mm thick. Once you've got the floor tiles, simply lay them down on the floor according to the design of your choice, connecting the tiles together with the fixing tabs on the sides.
Some rows of tiles may need cutting. The floor designer on the manufacturer's website will include these in the measurements, so you'll never be short of tiles. Cut a tile from the edge you like in half and install it on the wall. 

And it's that simple. There's no need for specialists like an epoxy floor or to wait for it to dry. You can easily get rid of most of the dust that collects between the tiles with a decent vacuum cleaner. For a major clean, you can easily pick up the Tuff-Tile floor tiles and lay down a new design.
Logo boards – showcase your brand or what you love!
The logo tiles are exactly the same size as normal tiles, 400mmx400mm. They are a bit thinner to order a vinyl mat with your logo on it. You can showcase your brand by adding your company logo or pay tribute to the hobby equipment manufacturer with a branded emblem. All to make your hobby or serious business stand out.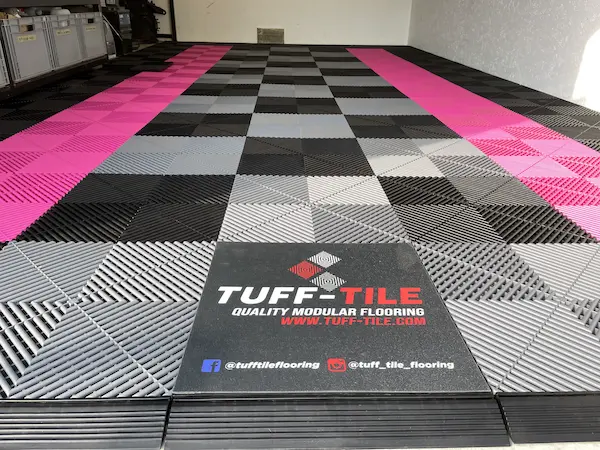 We know you're busy with your own stuff, and your business needs to serve customers, not wait for contractors to come start the flooring who knows when. That's why we've chosen Tuff-Tile Floor Tiles for your home garage - quick and easy to install. What's more, these floor tiles make surfaces look more distinctive. And, if one design is no longer to your liking, ordering and replacing new tiles is a breeze. And now we recommend it to you! 

Tuff-Tile flooring is suitable for multiple applications from home garages to fancy showrooms both indoor and outdoor. 


But if you want even more spice and sparkle into your space, go for the Tuff-Lite LED luminaires! These hexagonal luights are also super-easy to install, and they really bring out the object they illuminate. These lights are used by many automotive detailing companies across Europe, improving the quality of their work significantly. And same as tiles, can be used where ever a subject needs proper but fancy lihting. 
Request a quote for Tuff-Tile floor tiles
Hobihoid OÜ
Reg code: 16587639
VAT: EE102542819
---
---